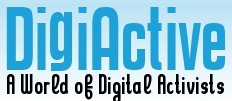 A couple of days ago, (April 10, 2009 at 12:22am to be exact) Frederick Noronha posted a great little peek at Social Source Commons on DigiActive.
DigiActive is
"…dedicated to helping grassroots activists around the world use the Internet and mobile phones to increase their impact. Our goal is a world of activists made more powerful and more effective through the use of digital technology."
Definitely our kind of organization. So swing by DigiActive, take a look around and check out what they said about SSC. Because, let's face it, we can't get enough of the attention.