Talking to a small nonprofit looking to get started on Social Media recently, the executive director told me that she's trying her hardest to get comfortable with Flickr because she knew that it was the place for photos and social networking.
Immediately, I thought to myself: "Wait. Is it?" It seems that more and more Facebook is becoming the place for photos. So I began to wonder whether or not Facebook was taking Flickr's trick and doing it better. I posted the question on Aspiration's Facebook Wall, got a lil' conversation flowing and got some insightful responses: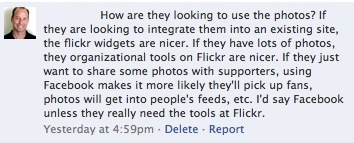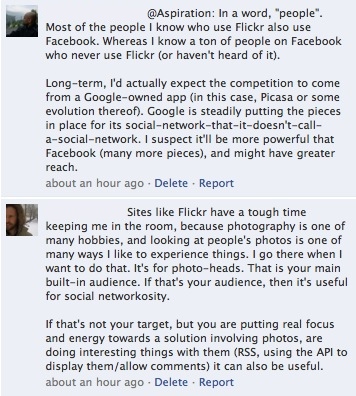 So I thought I'd move the conversation to the blog and see if anyone else has anything to add. What do you think about Facebook vs. Flickr vs. Picasa with regard to nonprofit photos?
What is your experience with these tools?
Do you think that Google is slowly putting together the ultimate "social-network-that-doesn't-call-itself-a-social-network?"
Some interesting related links: