A couple of days ago, one of the organizations we work with emailed me to ask about what it meant that Facebook was going to "archive" their Group. Apparently Facebook is doing a major push for old groups to upgrade to the new Groups format that they've developed while getting Groups not suited to its new format to switch to Pages. To speed up this process, Facebook is pushing it onto its users. Admins for Groups in the old format are seeing a message that the group is going to be "archived" unless they upgrade:

What does "archived" mean, you ask? Well, when a Group in the old format is archived, it will continue to function but LOSE ALL OF ITS MEMBERS. The only way to escape such a fate for your Group is to Upgrade to the new Groups format. Basically, Facebook is saying either change your Group right now how we want it or, for all intents and purposes, we're going to make it useless.

Awesome. Love it.
But wait, there's more. The option to Upgrade your Group? Yeah, that's only available if Facebook decides that your Group is worthy (see screenshot below). If not? No more soup for YOU. In other words, if your Group isn't good enough for Facebook you won't even be able to Upgrade.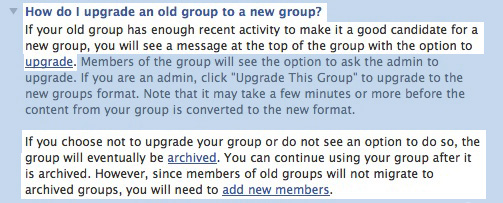 This is just another reminder that Facebook is a company out to make money and is NOT in this business to support you, your privacy or your work. Make sure that your communications processes are independent of any single tool. Don't make Facebook your communications strategy. Rather, define your higher level goals that Facebook can help you with.
Have you seen the option to Upgrade your Group? Have you not? What are your thoughts on Facebook deciding which Groups are worthy of an upgrade?