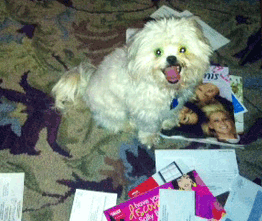 As an Americorps VISTA, I am forbidden from taking a second job while serving my year here with Aspiration. In an effort to possibly win some money or other free things, I have found myself registering with a few online survey companies. Understanding that their legitimacy and security may not be utmost and weary of the spam that I have to deal with – I'm pleased that I know a few tricks to adjust my Gmail address to better manage my online identity. Let's check out a couple to tricks that you can use to manage your own email intake.
Using "+" in a Gmail address
In your Gmail address, you can insert a "+" after your username and then add any words or numbers between your username and the "@" to create alternate email addresses that are still delivered to your inbox. Whatever you add between the "+" and the "@" is ignored by Gmail and all mail will still be delivered to your account inbox.


For example:
When I sign up for Aspiration's eNewsletter, I give them my email address that looks like this: username+aspirationtech@gmail.com.
"Aspirationtech" is ignored by gmail, because it is between the "+" and the "@" and the eNewsletter is delivered to username@gmail.com. However, in the inbox, you'll be able to see that it was sent to username+aspirationtech@gmail.com.
There are many different ways that one could use this trick:
Create multiple accounts with services that require you to have a unique address.
Set up filters, using the "To" line as a qualifier so that messages from services you sign up for don't clutter your inbox (e.g. Set up a filter for all emails that were sent to username+aspirationtech@gmail.com to be labeled "Aspiration")
Know what sites are passing your email address along to others. (e.g. If you get prescription drug spam being sent to username+groupon@gmail.com, you'll know somebody sold your email address)
Using "." in a Gmail address
Another trick that Gmail users and their friends may not be aware of is that Gmail does not recognize "." as a character within a username. So, adding, moving or removing a "." from a Gmail address won't change the actual destination address.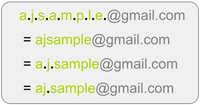 You can use this trick in many of the same ways as the "+" sign.
This is also good for people who are emailing Gmail addresses to remember: Can't remember where to put the "." in your friend AJ's email address? Good news! It doesn't matter!
ajsample@gmail.com = a.j.sample@gmail.com = aj.sample@gmail.com = a.j.s.a.m.p.l.e@gmail.com
However, if you are part of an organization that uses Google for their domain, this will not work for those email addresses.
Here are a few other posts that can help you manage your online identity:
Do you have any tips or tricks for managing your online identity?