We spend a lot of time on this blog and on the interwebs in general talking about the Good that software tools can do for an organization. Whether it's a tool that makes collaborative editing easier or a piece of code that automates a repetitive task, software has the possibility to be a big value-add to an organization with 12 balls juggling in the air. However, I wanted to talk today about the goals of these tools. In other words, I wanted to take some of the tools that we advocate for and show you how they correspond to organizational processes that are tool independent. Because one goal of a good technology plan is working toward best practices so that your organization is protected in the long term from changes or problems with the tools selected. As long as the process is defined, agreed upon and in place, the tool can be switched out but the organizational communications process remains the same. Let me explain with a few examples you may have heard me yammer on about around this blog: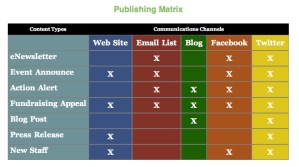 At the end of the day, a Publishing Matrix, as a software tool, is just a spreadsheet. Columns are your channels and rows are the content types that you promote. You can put one together in about 5 minutes if you throw something down on some scrap paper. However, that five minutes may balloon into 30 as you think about each channel that your organization maintains and how each has a different purpose and audience. It may continue to balloon as you bring other stakeholders in your organization over to give their opinion on your little piece of scrap paper. Discussions may develop, hypotheses about purpose, audience and time dedication may come up. This little spreadsheet that just lays out your communications channels has suddenly become the catalyst for an organization to come to terms and (sometimes) agreement on how to communicate their message to the world. The spreadsheet becomes a living document, changeable when new strategies and members are added or taken away. The Publishing Matrix is more of a symbol of your organizational policies and processes on communications rather than a necessary tool for online communications but the act of thinking consciously about where you and your organization have a presence for communication and how you treat those channels differently is where you find value for your organization..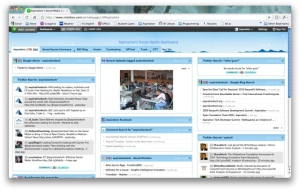 In a similar way, while we love using Netvibes as our Social Media Dashboard, the tool is one of many ways to listen to what, when and why people are mentioning your organization and topics that you care about. But listening is where the tool's abilities stop. When your organization is mentioned somewhere that the tool picks up, the question becomes "what do we do when someone mentions us online?" Depending on your organization, this may be a question for everyone or just the communications team but regardless, the question of "what is our process when someone mentions us online?" is a process that is independent from the tool. Whether you're using Netvibes, Radian6, iGoogle or just scouring USA Today for mentions of your name, the underlying workflow of getting involved with conversations, debates and allies related to your org remains the same.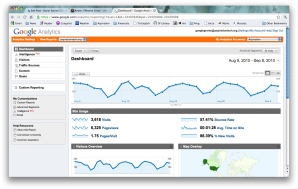 Thinking critically about the audience(s) of your organization is an essential part of any organization's communications plan. Who is seeking out your information? What are they like? Where are they hearing about you? What is making them dismiss you? These are questions that a multitude of software tools can help you answer. However, the process they correspond to, namely, customizing your outreach to the people who are listening and to the people you want to listen are organization (not tool) specific. Google Analytics, Facebook Insights and Quantcast can't help you too much with the question of "What should our organization do with this information?" Targeting audiences based on their characteristics and taking into account who you're missing is vital to getting your message across to those who want it. However, tools that give you information about your audience only inform the processes, they don't create them.
Message Calendaring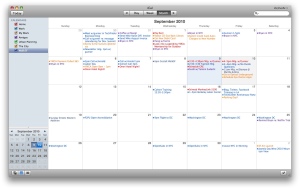 Planning out the arc of your messaging can be critical for the impact of nonprofit and social justice campaigns. Figuring out when, who and how to ask, inform and tell can vary widely from organization to organization so it's important to come to some pre-determined conclusions about planning out the messaging of your outreach. Having a Zoho Calendar set up with milestones and messaging dates doesn't do much good if the other communications team doesn't know about it or had no input on the dates. Message Calendaring should involve all those who have a stake in the messaging. An agreed-upon message calendar is a great way for an organization to formulate a messaging strategy as well as a simple heads up for everyone that these messages are going out. But again, the calendar tool that your organization uses is less important than the underlying process of coming to an agreement and workflow for sending out organizational messages.
How About You?
Social Source Commons is a tools site and we recognize the value that tools can bring to an organization. However, I just wanted to stress that organizations should think critically about what the tools that they use (whether it be a CMS, a donation manager or a calendar app) are accomplishing on an organizational process level. Thinking about tool selection as the last step of a technology plan forces an organization to think about the larger goals of the implementation. These goals then inform the process that folds into the overall mission of the org, saving you from being chained to an isolated tool that accomplishes a single task.
What are the processes behind the tools that you use?
What do you think about the four communications processes that I mentioned in this post? What's missing? Do you feel that one or more does not apply to your org? Let me know! As always, I love to hear your opinion.