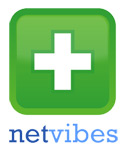 As you may know, we here at Social Source Commons and Aspiration are big proponents of putting together a Social Media Dashboard to monitor what people are saying about you online. The basic idea was that social media sites post RSS feeds for searches. This means that you can search for a term like your organization's name on a social media site like Twitter, pull the RSS feed and it will automatically update when someone mentions you on Twitter. You can then collect a multitude of these searches in a tool called a Dashboard like Netvibes or iGoogle. We recommend Netvibes because it is free, easy to set up and does the job.
This process used to require a free Netvibes account and then the time it took to copy and paste RSS feeds from search queries. Well today Netvibes introduced a feature that creates an instant Social Media Dashboard where all you have to do is type in the keyword you want to track and it does the rest. For a little comparison, Aspiration's Social Media Dashboard while easy to put together, required me to go to a variety of sites like Twitter Search, Google Blogsearch and BackTweets, search for the keyword "aspirationtech," pull the search's RSS feed and then paste it into Netvibes. You can imagine that it would take a little time for each keyword and site. Netvibes' new feature means that instead of going around the web and copying individual feeds into my dashboard, all I have to do is input "aspirationtech" once and it pulls a collection of individual feeds for me. Awesome time-saver.
To create a new instant dashboard, log in to Netvibes, click on "Dashboard" in the upper left-hand corner then click "New." Then simply type in the keyword you want to track and click "Next." Super simple. It even gives you the option to use a relevant photo (from your keyword search) as the basis for a dashboard theme.
While the new instant dashboard creation feature is a great time-saver, I was a little disappointed to see the feeds that are not included in the automatic setup. They don't search BackType (for searching Blog comments), BackTweets (to see who has shortened your URLs) or Delicious (to see who's bookmarking with your keyword as a tag). This, however isn't a big deal as you can still add individual feeds to the instant dashboard to fill in any holes. Finally, the only other feature request I would have is to be able to track multiple individual keywords. For instance, input "aspirationtech" and generate the instant tracking widgets and then be able to add the same tracking widgets to the dashboard for a different keyword like "SSC Blog."
However, these are minor quibbles in the face of a great feature addition that will hopefully allow more organizations to track what people are saying about them online. FTW!
Related Resources: