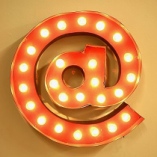 Many organizations use Facebook as their primary social network (as opposed to Twitter, LinkedIn or MySpace). We have a Facebook page for both Social Source Commons and Aspiration on which we periodically update our statuses in addition to the resources that we push out through our Twitter page.
One feature that I don't think many organizations have taken advantage of on Facebook is the @ functionality as a networking mechanism with other organizations. The basic idea is that if the administrator for an organizational Facebook page is a fan of an organization, she can "mention" that organization in a status update and the status update will automatically show up on both organizations' walls. All the admin has to do is type @ into the status update field and then start typing the name of the org she is a fan of. That org will show up in a little dropdown menu which she can then select. The organization's name will be blue in the status update so you know that it's taken advantage of the "@" functionality.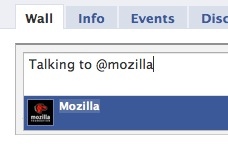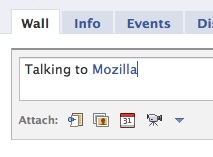 I feel like this is a missed opportunity for a lot of Facebook pages to network and promote themselves on Facebook. By mentioning organizations in your status updates you not only alert your fans of another organization doing great things, but you get placed smack in the middle of their wall providing exposure to your organization to a whole new set of people who may not have known that your organization did similar work. It's another way to move past having your Facebook page be a silo-ed little page that doesn't take advantage of your nonprofit network.
Have you used Facebook's "@" mentions to promote your page? How do you think it compares to Twitter's "@" mentions?
Some other related articles you may be interested in: