Did you know that you can embed any SSC Community Toolbox right into another web page?  It's simple and perfect for when you want to show the contents of a toolbox right within your own web page rather than linking to Social Source Commons.  Let's check out how it's done:
I want to embed Robert Kee's "Online Donation – International Availability" Toolbox into the SSC blog.  So the first thing that I do is find the toolbox on SSC.  The quickest way is to go straight to the Search field in the top right corner of the SSC webpage and type in the name of the toolbox:

When I find the toolbox in the Search Results, I click on the title and go to the "Online Donation – International Availability" Toolbox page.

To the right of the Toolbox window, there is a green window entitled "Embed this toolbox."  Now all I have to do is copy the text (the embed code) from the text box and paste it into the html code of my website.  For me, this means taking the embed code and pasting it into our WordPress Blog's html code: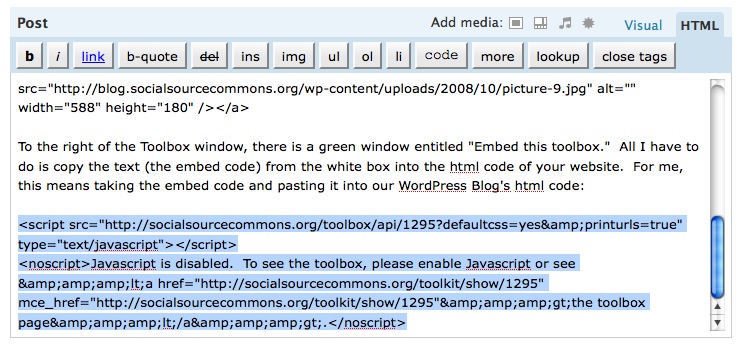 Make sure that Javascript is enabled and that you're pasting the code into the website's HTML. Many blogs have visual text editors that the code will not work in, so make sure you're pasting the code into the website's HTML.
And there you go, a perfectly embedded Social Source Commons Community Toolbox right in the webpage. It shows each of the tools, their descriptions, as well as their tags so that people can find related tools on SSC by simply clicking on the tags. The embedded toolbox is fully interactive so a visitor to your website can click on any of the links just like she would on the Social Source Commons webpage. Give it a whirl with our embedded "Online Donation" toolbox courtesy of Robert Kee and SSC Toolbox Embedding:
A few points to remember:
You can embed any SSC toolbox, not just the toolboxes that you've created yourself.
You have to paste the Embed code into the HTML of your website, not into the visual text editor.
You have to have Javascript enabled for the toolbox to successfully embed.
For more examples of SSC Community Toolbox Embedding, check out these sites:
NOSI Free Web Server Software
Aspiration Open Translation Tools
As always, if you have any questions or comments, drop me a line.
Happy Embedding!