Creating a Community Toolbox on Social Source Commons is one of the great ways in which users can become actively involved with the site.  Toolboxes are created in order to organize the tools that you use into understandable and useful collections.  When your account is first created, you have your "Personal Toolbox", which is intended to list the tools you use and actively recommend.  However, as you document more tools and want to share more specific information, you may discover that you want additional ways to group and publish lists of tools.  This is where creating a Community Toolbox can help you out.  First you pick a theme and then you add tools.  It's as simple as that.
Let's look at how I created the "CTC VISTA Tools" Toolbox, a sampling of tools that Americorps CTC VISTAs use at their organizations:
Starting at the homepage, I click on "My Toolboxes" near the top of the screen:

On the "My Toolboxes" page, I click on "Create Toolbox" at the bottom of the green "My Toolboxes" Box: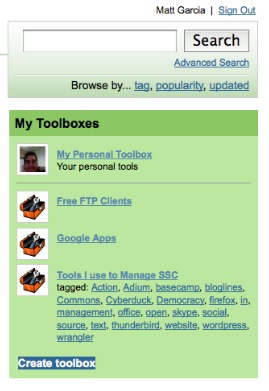 "Name" and "Description" boxes pop up that I can then edit.
After I click "Create," SSC takes me to the Toolbox display page and now my Community Toolbox is ready to be filled: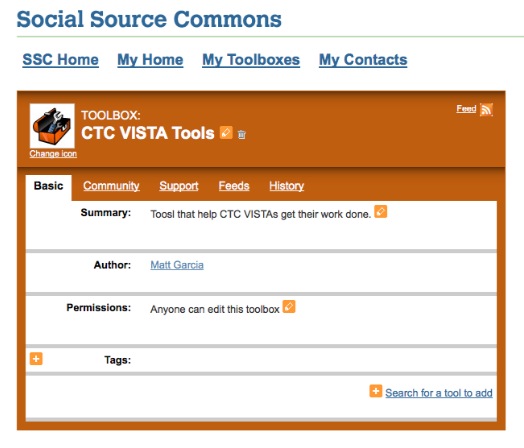 To add tools to the toolbox, I click on "Search for a tool to add."  A search field pops up to find relevant tools to add to the Community Toolbox:

I want to add Open Office, so I type it in the field and click "Search."  SSC takes me to the Search Results Page: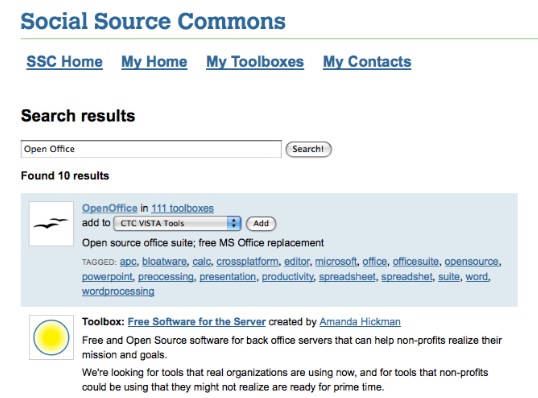 On the search results page, in the tool listing, I simply choose "CTC VISTA Tools" from the drop down list and click on the "Add" button to add it to the "CTC VISTA Tools" Community Toolbox.

Now when I go back to the CTC VISTA Toolbox display page, OpenOffice is nestled inside.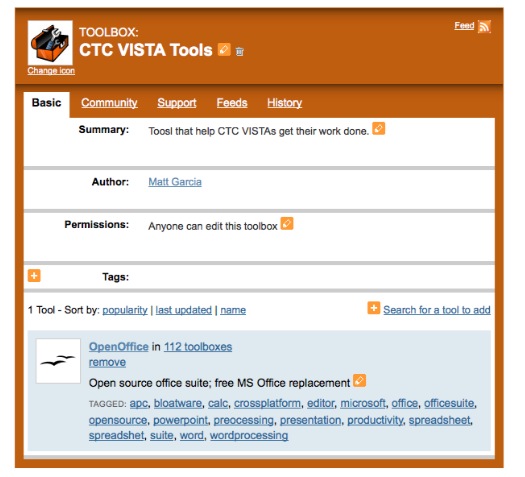 Now that my Community Toolbox has tools, I can add "Tags" to help people find it.  I just click on the

next to "Tags" and a field pops up in which I can write any words that describe the toolbox.
After clicking "Add," the tags are then displayed along with my tools on the Toolbox display page: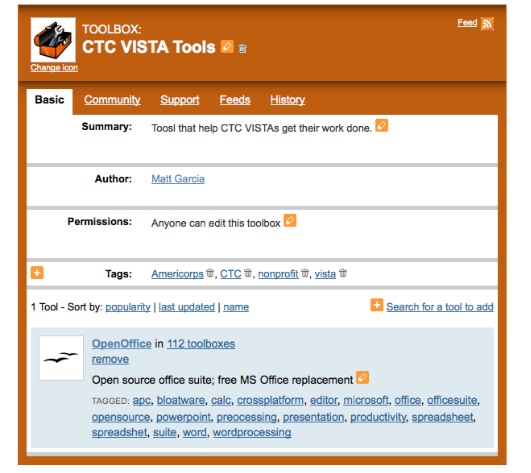 As you can see, creating a Community Toolbox on SSC is an easy way to organize your tools in a thematic way.  Whether it be the tools that you use to get through your every day or tools to organize that annual fundraising event, SSC Community Toolboxes can come in handy.