When I moved recently, I realized just how many companies and agencies there were that I needed to stay in contact with. I needed to contact them to update my information and I had little to use to figure out who those companies and agencies were.
I started the process of updating my contact information for the companies that had recently contacted me, this strategy worked fairly well. But, as I found out in the next 6-9 months through e-mail and from my previous residence continuing to forward mail, there were some fairly important contacts that I missed by not having a definitive list to work from.
"Do we already have an account with ___________?"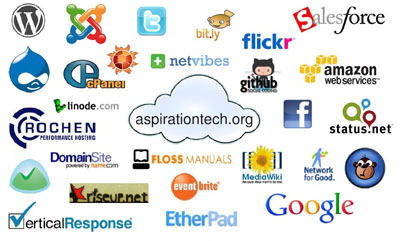 As a nonprofit trying to work in the vast online realm, you may find your organization in a similar position as I did. Needing to update contact and login information without knowing for sure where all your online identities are located and maybe not even aware of all the different locations where organizational data is stored.
Knowing where your data is stored is incredibly important because, as Matt explained in an earlier blog post, DATA IS YOUR MOST IMPORTANT TECH ASSET.
In order to keep track of organizational online real estate and identities, along with what data is stored in those places, Aspiration has developed a simple spreadsheet. In this spreadsheet we list out all of the different places where organizational data is living and record the account information associated with those places.
Benefits of Knowing Where Your Data is Online
Just like knowing who needs to have your updated contact information in order to send you important stuff like bills. Keeping track of our online accounts in this way has really come in handy when:
doing regularly scheduled password changes
figuring out if previous staff opened accounts on any platform
closing online accounts that are no longer used
and when educating new staff about what data is stored in what online accounts.
Essential Account Information
In general, we try to keep track of two different kinds of information for our online accounts. First, the basic essential information such as:
What is the service or vendor?
What URL do we use to access the account?
What login information (username) do we need? li>
Who has access to that information? Or Who uses this account regularly?
What contact e-mail is associated with the account?
Fee for service information
DO NOT KEEP PASSWORDS AND LOGIN INFORMATION IN THE SAME DOCUMENT. Ever. End of story.

Second, we record information about the data that is stored with each online account, including:
What kind of data is stored there, hosted data or analytics data?
What data are stored there?
Is it backed up?
How is it backed up?
How often is it backed up?
For security, it is NOT a best practice to keep track of where the data is backed up in this document.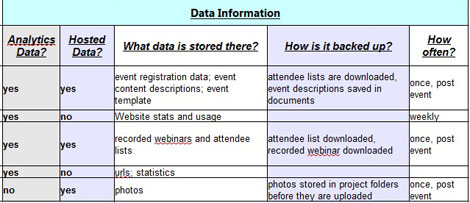 Hosted and Analytics Data
Its may be important to differentiate what kind of data is stored with an online account. In our experience, we can sort these kinds of data in two categories hosted data and analytics data.
Hosted data is information that you put into a platform, such as website content into a content management system or an event desription into eventbrite. Keeping a back up of this information is important because it is data that took time to create. Losing this data would result in a need to recreate it, which means time lost.
Analytics data, is also very important to your organization, as it lets you know how your online efforts are working. This is usually data that the platform reports to you, like when facebook insights lets you know how many visitors your page has had. Its important to know how long the platform will retain this information and to regularly record the analytics data somewhere else, so you can track progress over time.
Try It, You'll Like It
Now that you have an idea of what an Online Accounts Inventory could look like, and what information is important to keep track of about each account. Try making one for your organization! You may be surprised at how many online accounts your organization has when you take the time to write it all down.
Get started with this template
Example of our Online Accounts Inventory
If you use this template to make an online account inventory for your organization, we would love to hear any feedback you come up with while working through the process.
Do you have another way that you keep track of online accounts? Share it with us!