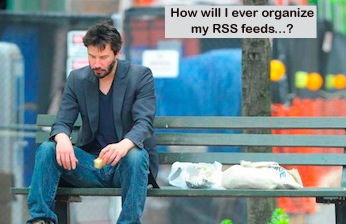 We, like a lot of other people, love using a "listening dashboard" like Netvibes to listen to the social web. It's free, pretty easy to put together and it does all the work for you of tracking down when your name or organization has been mentioned online. Fun stuff. The magic is all in finding and subscribing to RSS feeds for searches around the web. However, the different terms you are tracking related to your organization and issues can add up and a simple list of RSS feeds for your name can easily turn into 50 feeds searching for when your staff bio is mentioned on Twitter.
A Template for Organizing Your Feeds
As a result, we've put together a small template that we like to call a "Listening Matrix" (we may or may not have a Keanu Reeves obsession going on here). The Listening Matrix provides you with a place to organize the different places and terms you are tracking with your listening dashboard. Here's a screenshot: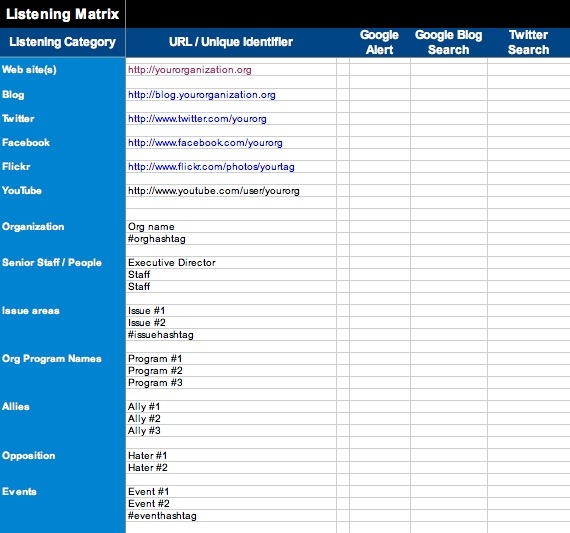 Components of the Template
Along the top of the first half of the matrix, we have:
"Listening Category"

The categories of channels or content your org wants to track
e.g. URLs, Keywords, People's Names, etc.

"URL/Unique Identifier"

Your organization's corresponding URL or Unique Identifier for each Listening Category
e.g. http://blog.socialsourcecommons.org for the "Blog" Listening Category or "Matt Garcia" for the "People" Listening Category or #aspirationtech for the "Organization" Listening Category

Sites your organization uses for tracking

The search sites that you pull RSS feeds from. Fill these boxes with the corresponding RSS feed for each search site
e.g. For each URL/Unique Identifier in Column B, paste in the corresponding RSS feed for that URL/Unique Identifier for each search engine column.
How to Make it Work for You
Let's follow the "Web site(s)" row as an example of what I'm talking about:
First, I paste in my web site URL into the URL/Unique Identifier Row

Then, I create an RSS Feed looking for a link to my website and paste the feed into the "Google Alert" column on the Listening Matrix:

Going down the line, I then create RSS search feeds looking for people linking to my website on "Google Blog Search" and "Twitter Search" and paste them into their corresponding cells on the matrix. I continue for each search engine that I have in the Matrix (e.g. Flickr, Delicious Search, Kurrently, etc.)
When I get done pasting them in, I have a document containing all of the RSS feeds tracking my organizationally relevant terms, sites, issues and people. This way, your RSS Feeds become an organizational asset outside of Netvibes (or whatever dashboard tool you're using) and you are able to see holes where you may want to be tracking organizationally-relevant information.
Download and Try Out the Listening Matrix for yourself
How Do You Manage Your RSS Feeds?
Does this template seem like something that will be useful for you? Let me know how you manage your own RSS feeds and what you'd like to see from your own "Listening Matrix"
Other Posts You May be Interested In