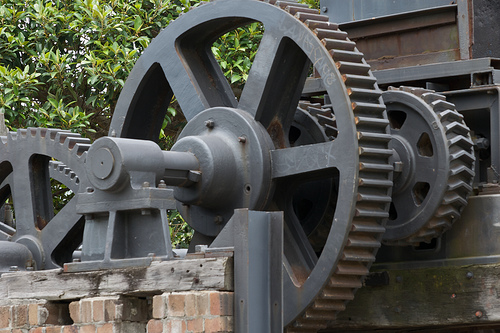 Matt asked me to take a few lines and discuss the tools I use in my role in Operations here at Aspiration. We agreed the best way to get that ball rolling was to build out a toolbox in SSC highlighting them. And not surprisingly to those that read this Blog regularly, he thought there was a conversation to be had on some of the unique challenges facing admin. staff at smaller NPO's.
Since most nonprofit groups are focusing the lion's share of money and resources toward their respective missions, it's easy to see why administration staff are tasked with bringing in their deliverables with little to no impact on the bottom line. I'm talking about tools that are free or nearly so.
My own "NP Operations" toolbox features seven tools, only two of which out and out cost money.
From to-do lists and calendared milestones to uploading documents, pictures and templates. This web-based project management tool from the gang at 37signals is fairly easy to use and a great default location for any item regularly shared by your team. Throw in automated reminders of those milestones and the ability to add Projects and you have a tool most E.D.'s will happily pay for.
On the other hand the UI does take a bit to get used to and all that functionality can be it's own time sink. Quick, build a to-do list of milestones to add before brainstorming writeboard topics.
Google Calendar and Google Docs.
These are the calendar and web based document management tools from Google. Google Docs. is like having an office tool suite in the Cloud. You'll need a Google account (free) to access these and the rest of Google's tools.
As with all Google products, these are extremely useful for those looking for both functionality and some of that Cloud magic that everyone's been on about. But the trade off is, of course, the down side of those strengths. Google will roll over like any other major corporation when subpoenaed which should frighten those orgs. doing more radical work. And unless you're paying for the pro-level Google account, all that data is really controlled by someone other than you, and subject to their motivations and mistakes.
An alternative to MS Office's strangle hold on productivity software.
Spread sheeting makes up the bulk of my day and if you're anything like me, a decent suite of office tools is as important as your computer itself. But working in the NP sector means making your choices based on what's good for the community as well as what's good for the work. I'll leave the soapbox in the corner, but I think it makes sense to tell Microsoft "no" once in a while.
There has been recent shifts in the ownership of OpenOffice but there are still forks out there keeping the faith, for example LibreOffice
Instant messaging, or IM, is basically phone texting on the computer. And a Client like Pidgin allows you to interact with several different IM providers (like Yahoo, Google and AOL) from the same interface. It can be great for relaying simple, time sensitive information and web links.
A "most"-in-one IM client that works on both Windows and Macs is impressive, but a free one?!? Why aren't you using it to pick a fight with your brother right now? I mean, find out how much time you have to turn in the final budget on the last event. It also supports encryption for sensitive material.
The simple truth is that the team should be out there in the grass, with the roots. Not sitting around the office wishing someone would place a lunch order, or waiting for you to double check the validity of an Amazon receipt. Communication between stakeholders should take many forms and having several options is always a good thing.
I'm not an accountant, and I haven't played one on TV since the middle '90s, so having reliable and usable ledger software is important. QB certainly has the muscle to handle invoicing and check cutting, as well as layer after layer of services for all types of accounting needs. Wanna take credit card payments? Need Human Resources stuff? You can have them.
And that's the problem really. Once you want it to specialize in your particular needs it tends to becomes unwieldy. Dialing in what, you might think, are basic operations and reporting on them can become frustrating very quickly. Have some sort of, third party, professional support, is my advice.
Skype allows users to make voice calls over the Internet. Calls to other users within the Skype service are free, while calls to both traditional landline telephones and mobile phones can be made for a fee using a debit-based user account system.
I think of Skype as an evolutionary step towards free world wide communication. Overly romantic? Probably. But I once arranged three days of catering in Amsterdam, from San Francisco, for 150 people using Skype. It was easily a fraction of what traditional phone calls and slow emails would have cost. I'm currently looking at using it as a conference line option.
The interface can be a bit aggressive and it's another potential spam channel. But if you've never played with it, I recommend having a look.
Operations is not very sexy. But it is the work that makes Program possible, and for that we should take pride in our contribution. I'd love to hear about the tools you use to make your own trains run on time. And if you have a more NP-centric accounting tool to share, there may be an adult beverage in it for you.