A couple of days ago, on the Aspiration Facebook page, I asked if people thought it was cool and kosher to take screenshots of Facebook comment threads and stick them into blog posts. The replies were varied and I encourage you to take a look at this screenshot of the comments 😀 I took out the names and pictures to respect the posters' privacy. The question of should I protect their privacy in this way is open to debate.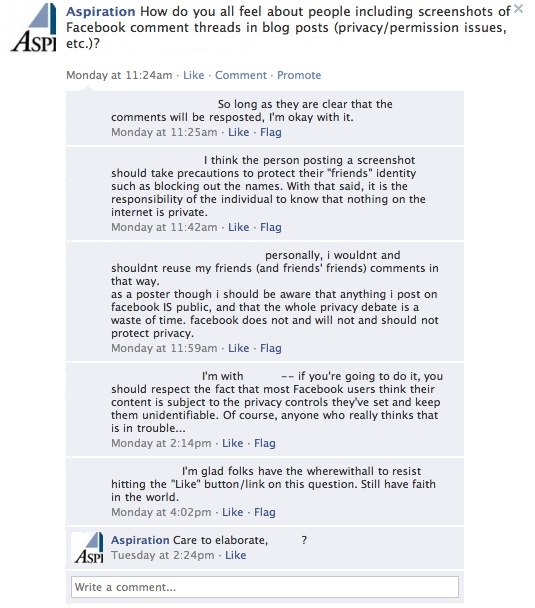 I'm interested in how you have managed different conversations across your communications channels. Do you try to have a single conversation across multiple channels? If so, do you put them together at some point or cross post conversation threads into different channels as I've done here? Or do you keep each channel as its own separate conversational universe?
For me, I find myself thinking a lot of about what's been working for each channel individually. Obviously different tools have different advantages but it's only now that I've been able to feel that out and understand what that means with regard to our audience specifically. I've found lately that using our Facebook page as a place to ask questions of our community and engage around shared frustrations is something that people are getting value from (i.e. posting comments, joining the conversation, liking). WIth this in mind, I've been thinking a lot more about the strategy of specific online communication channels for our organization.
My Thoughts:
| | | |
| --- | --- | --- |
| Channel | Apparent Value to our Followers | Channel-Specific Strategy? |
| Facebook | A place to discuss issues/opinions around nptech | Post questions and provide a place for community members to discuss nptech issues |
| Twitter | A place to find out about resources, articles and content related to our Mission | Use Twitter primarily as a announcement channel |
| SSC Blog | A resource for an alternative opinion about the basics of nptech and online communications for nonprofits | Publish posts around nptech basics that take a step back and look at overarching processes behind the tools; Share my own experience doing online communications. |
Looks like I'm going to go play around with our Publishing Matrix…
How do you manage conversations across channels?
What do you see as individual channel strengths for your audience?