Aspiration recently did a training at the UC Berkeley Labor Center around online communications and I presented our Publishing Matrix as a way for these organizations to get a handle around the organizational processes/policies surrounding the myriad online channels that are out there.
Those of you familiar with Aspiration's Organizational Processes already know about how a Publishing Matrix is a simple way to organize your online communications efforts into a coherent message and workflow. Here is a screenshot of our Simple Publishing Matrix Template to give you the basic idea: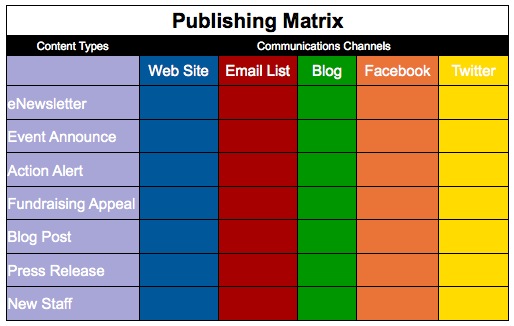 So all I wanted to do for this post was upload my slides walking the group through a Publishing Matrix Row and get feedback on what you thought about it:
Let me know your thoughts! Is it clear/unclear? Have you implemented a Publishing Matrix? Why or why not?