We all know that you can pull feeds from Social Source Commons. Through RSS, you can be automatically notified for all sorts of changes from new users to new toolboxes. RSS feeds are a great way to get a wide range of updates from all over the internet together in one place.
Similar to the concept of information "planets" from http://www.planetplanet.org, one utility of RSS is that information can automatically be aggregated around a subject. So, there are "planets" around certain technology subjects, like GNOME or OpenOffice.org. News, articles and users could become part of the GNOME planet if they were useful to its overall discussion. Now, like Planets, anyone can aggregate news and information around a tool or toolbox with the use of the RSS Feeds tab on Social Source Commons.
While you may have overlooked the tabs in the tool and toolbox displays before, preferring the comfortable, instant info of the "Basic" view, I encourage you to have a look around. The "Feeds" tab is the place to pull RSS feeds about a tool or toolbox. In this way, you can have SSC pull various RSS feeds that talk about your tool or toolbox from all over the internet and bring them all together in one window, creating a one-stop information resource about the software tools you're interested in.
Let's take a look at an example to show you how it's done. I created a toolbox called "Web 2.0 Tools." Say that I want to add a feed about nonprofits and web 2.0. First, I go to the "Web 2.0 Tools" Toolbox display page and find its "Feeds" tab:

When I click on the "Feeds" tab:

it shows me how many feeds are currently being pulled for my toolbox. I already have 4 feeds coming into this toolbox, but let's say that I wanted to add another. Beth's Blog by Beth Kanter is a fantastic blog focusing on Social Media use in the Nonprofit Industry. Any Web 2.0 Blog list would be severely lacking without it. To add her feed to my toolbox, I simply click on "Add Feed," which brings me three fields to fill in: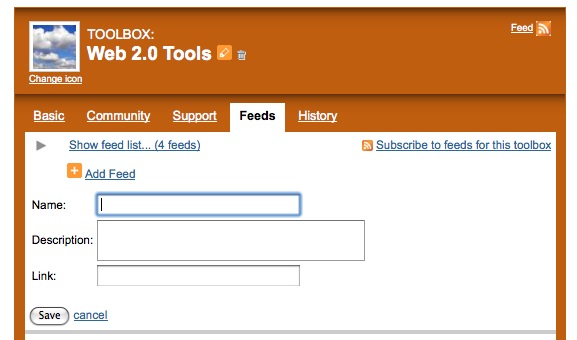 I fill in the Name, Description and RSS Feed Link, making sure I input the RSS link and not the standard URL of the webpage (I got the feed link for Beth's Blog from her
RSS button):

Then, I just click "Save" and now the posts from my feed will be added to the "Web 2.0 Tools" toolbox automatically along with any posts from the other feeds assigned to my toolbox: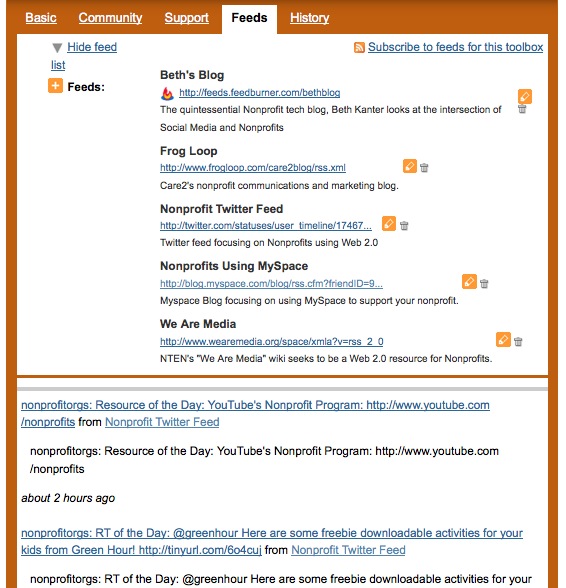 Simple as pie, no?
Social Source Commons seeks to be your resource for nonprofit tools and with SSC "Feeds," your tools and toolboxes can pull together news, articles and thoughts from across the internet.
To see some great example of users using Feeds, check out these:
Happy Feeding!